Sarah Hauser Helps You Help Your Pets
To Be in Optimum Balance
With Tellington TTouch, Animal Reiki, Craniosacral Therapy
and Bach Flower Remedies
Contact me now to schedule a session, 646-522-9131 or
hausershealinghands@gmail.com
SOME GREAT NEWS! I now have an online class on Teachable, "Cats Are Our Teachers - The Power of Quiet Connection: TTouch and Other Modalities for Cats". You can take the class at your own pace, on your own schedule. Click here for the class site and information:)
Use the coupon TWELVEOFF for 12% off, which is good til November 30, 2022. Taking this class will also enable you to a 15% discount on a one-on-one session with me (remotely or in person).
AND HURRY FOR SALE PRICE AND BONUSES! I will be doing a presentation on how TTouch helps shelter cats in the online TTouch Cellebration event October 14-17. I will also be participating in a panel discussion on cats. Click here for more information, and to sign up:).

I am a Tellington TTouch Practitioner for Companion Animals, a Reiki Master with Special Certification in Animal Reiki (certified to do Reiki sessions with people as well as their pets), Level I Healing Touch for Animals practitioner, and am certified in Craniosacral Therapy for Small Animals, and certified to treat people and animals with Bach Flower remedies. I have also studied hands-on healing for animals with Margrit Coates.
I work with animals at various rescue organizations as well as privately.
I am available for workshops, demos, private TTouch lessons and private appointments. Click on the
Services
tab above for more information.
Due to the pandemic, I am doing a limited number of in-person appointments. Remote sessions include remote Reiki, TTouch lessons, behavior consultations and the like. Contact me for more details on how I can help you.

Contact me at 646-522-9131 or
hausershealinghands@gmail.com
for more information, with questions you may have, or to set up an appointment or workshop.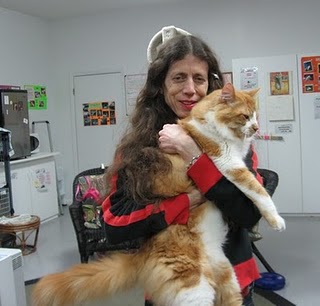 Picture above: Me with Calvin at the Homeless Cat Network Rescue in California, where I have taught TTouch workshops.
Below: Demo of the Clouded Leopard TTouch with Garbanzo.